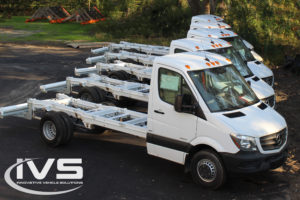 IVS creates custom commercial vehicle solutions that solve business problems. Operators and fleet managers come to Innovative Vehicle Solutions to turn their ideas into plans, and then build specially equipped commercial cargo vans, box trucks, dump trucks and flatbed trucks to do specific jobs.
We maximize the payload performance of light- and medium-duty trucks with precisely engineered designs that use lightweight, high-strength materials. This assures lower operating and maintenance costs and keeps total weight below 26,000 pounds to avoid the need for CDL drivers.
IVS is not a cookie cutter operation. We fit the vehicle to your business, not your business to the vehicle. We do custom work that our competitors simply cannot match, following a proven six-step process for each custom commercial vehicle solution so we can make as many as you need, without variation:
Design – We listen to you to fully understand your problem, and then our engineering staff develops detailed drawings for a custom designed solution.
Prototyping – IVS fabrication teams develop the tooling and custom parts, and our manufacturing teams assemble a prototype.
Implementation – After you are completely satisfied with the prototype, we manufacture from one to hundreds of custom vehicles for you.
Scalability – Professional engineers ensure that every step is documented and that every process is replicable and scalable for efficient production.
Quality – Quality assurance is part of every step and process.
Service – IVS provides extraordinary customer service at 18 locations in 12 states.
Please see these pages for more about our Engineering, Manufacturing and Consulting services. Call Innovative Vehicle Solutions today at 1-844-WE-UPFIT (1-844-938-7348) to discuss your custom commercial vehicle solution requirements.